Attachment-Oriented, Trauma-Informed and Developmentally Sensitive Treatment for Male Youth
Stetson School is a nationally accredited, fully licensed, Chapter 766-approved Residential Treatment Program for boys, ages 9-22, who can benefit from a staff-secure group setting. Stetson School is a flexible, family-driven program specializing in safety, stabilization, and assessment. We foster empathy and alliance between our treatment community and the child and family.
Located on over 200 acres in beautiful Barre, Massachusetts, Stetson School at Seven Hills provides state-of-the-art expertise in its therapeutic approach to helping adolescent boys who have problematic behaviors, complex developmental difficulties, chronic mental illness, autism spectrum disorders, suffered from severe trauma, histories of sexual, physical, and/or emotional abuse.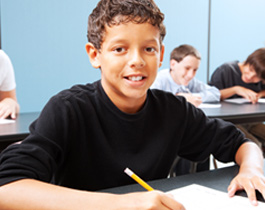 Our residential treatment program is a place for treatment rather than simply a placement for youth. The caring environment provides around-the-clock structure and supervision while members of the interdisciplinary treatment team provide an environment that supports behavioral and emotional safety.
Stetson School's integrated model includes psycho-education, cognitive-behavioral therapy, insight-oriented and relationship-based psychodynamic therapy, and behaviorally-oriented treatment, as well as psychopharmacology. Treatment interventions are geared toward the age, needs, and cognitive capacities of youth, including a clear recognition of the needs and capacities of our younger preadolescent youth and youth with intellectual disabilities.
At Stetson School, we foster a strong alliance between our treatment team, the child and the family to ensure success. Our family-centered services maintain the safety and well being of all family members and provide strength-based and culturally sensitive services with the goal of supporting family stability, successful reunification and permanency. Families are included in the treatment process and in the development of reunification plans. Ongoing regular communication is encouraged with the student and team clinicians.
"Not only was your facility willing to accept him for treatment, when many others declined him, but admissions staff personally picked him up and transported him to Stetson." ~ Maryland Foster Care Worker
Stetson SChool accepts referrals on a rolling basis throughout the year as well as emergency, overnight and weekend admissions. Stetson School is SEVIS approved and accepts international students. Download the Stetson School Referral Form>
Admissions Coordinator Kathy O'Connor will contact you within 24 hours of receiving a referral. Pre-placement interviews will be conducted at the location of your choice. All inquiries are confidential. 978.355.4541 x4139