Quality: The Hallmark of Services at Seven Hills
Seven Hills regularly convenes working teams of clinicians and program managers from across all areas of service of the Foundation's 15 affiliate organizations to develop clinical protocols and processes leading to the highest quality and effectiveness of care. Member(s) of our senior leadership staff direct the teams with the purpose of reviewing clinical approaches, benchmarking outcomes, and providing a forum in which clinicians can share strategies and knowledge. For our clinicians, this is a valuable opportunity to gather together as a group and share best practices.
Seven Hills clinicians represent a variety of expertise including doctors of psychiatry, psychologists, registered nurses, nurse practitioners, BCBAs, licensed practical nurses, licensed mental health counselors, licensed independent clinical social workers, allied health professionals, assistive technology specialists, and educators.
The Seven Hills Clinical Practice Team began by identifying a shared vision of working together toward the integration of clinical services, promoting communication among affiliates, identifying appropriate training and professional development, and conducting research.
As one of the industry leaders in Positive Behavior Supports (PBS), Seven Hills is working toward the full implementation of system-wide PBS through the efforts of the PBS Workgroup.
The Nursing Practice Team convenes nurses system-wide to develop nursing protocols that highlight the highest standards of care using evidence-based practices.
"At Seven Hills, all of our quality assurance program improvement initiatives are guided by one factor: ensuring that we provide the highest quality programs and services to those whom we are privileged to support." Dr. Kathleen M. Jordan, President/CEO.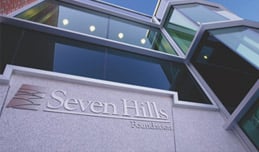 Seven Hills Affiliates
The corporate structure of Seven Hills Foundation supports the following operating affiliates:
---