Empowering and Educating Families on their Journeys in Support of Loved Ones with Disabilities
Seven Hills is the go-to source for families supporting a loved one with a disability. Our four Family Support Centers in Massachusetts act as a hub of information, resources, supportive services, parent training videos, and activities for individuals with disabilities, families, and the greater community. With an emphasis on providing person-centered and culturally and linguistically competent support services across the lifespan. Our Family Support Navigators provide a wide array of options to individuals with disabilities and their families that enable them to stay together and live in a nurturing environment, maintain relationships with families and loved ones, and be welcomed, contributing members in their home communities.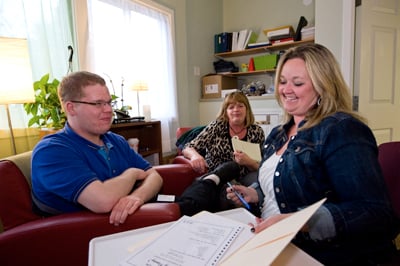 Each Family Support Center is funded by the Massachusetts Department of Developmental Services (DDS) and incorporates its guiding principles, using the Charting the LifeCourse framework to provide the following service elements: Discovery and Navigation, Connecting and Networking, and Goods & Services.

At the Family Support Center locations, our additional expertise includes:​
Individualized support and advocacy
Education on systems of care, public benefits, and funding
Friendship and relationship-building
Adults with Autism Spectrum Disorders
Cultural and Linguistic Competency
Family Support Centers work collaboratively with other Seven Hills Family Services staff to assist families with a variety of other community-based supports:​
DESE/DDS wrap-around services
Agency with Choice self-directed funding model
Hourly Respite (SSQUAL)
In-Home Supports
Family Support Navigators:
Recognize individuals and their families as the primary decision-makers, strengthening their natural capacities for leadership
Provide individualized and flexible supports that are responsive to each person's needs, strength, and cultural values
Maximize community resources available in each person's local community/neighborhood
Identify wrap-around supports such as counseling, housing, transportation, public benefits, social connections, and food.