Determining One's Interests and Pursuing One's Dreams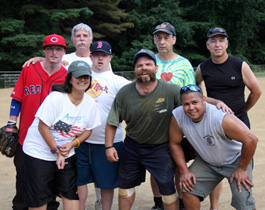 At Seven Hills, we are passionate about cultivating interests and providing opportunities for people with disabilities to pursue their dreams. Our staff members partner with resources in the community to help connect children and adults to their personal areas of interest. Through a wide array of classes, team seasons and workshops in the Greater Worcester area, our teachers, coaches and volunteers work to ensure there is something for everyone! Throughout Massachusetts and Rhode Island, Seven Hills staff work to make natural connections in each individual's community for social integration and interaction in their areas of interest.
Many of the sports programs offer competitions in local and state tournaments through Special Olympics in Massachusetts and Rhode Island. The arts programs include community exhibitions. Volunteers, unified partners, coaches, musicians and artists are welcome to join in the fun!
Our specialists work to identify ways for organizations and groups to include people with disabilities, providing meaningful opportunities of their choice. We have established successful connections with the following organizations and groups to promote community involvement for the individuals whom we support:
Local YMCAs
Community-based learning with local area colleges
Best Buddies
Trinity Rep Theater
Quinsigamond Community Rowing
Fishing Club
Numerous arts and cultural organizations
Social media
Community Connections Spotlight
Meet Tyrone Hicks, the Coach of the Seven Hills Shamrocks Football Team

"He [Tyrone] coaches every one of them without leaving anyone out, and it is just amazing to watch," said Lisa, whose 21-year-old son, Kyle, is a Shamrocks athlete and whose other three children are Unified Partners. "He's a competitor and the kids are competitors, but he balances that with the encouragement of, 'You'll get it next time, you'll get it next time."

Read T&G article about Tyrone here >