Learn How to Become a Skilled Mediator
What is Basic Mediation Training?
Our Basic Mediation Training is a 40-hour course designed to provide an intensive 5 days of fully exploring, diagnosing, teaching, and hands on coaching of the mediation process from the initial greeting of parties to drafting a mediated agreement.
The training includes lectures, role playing, fish bowl activities, improv techniques, freeze frame practice, pragmatic vs. intuitive recognition, into the heat techniques, and concludes with a 40-hour certificate to acknowledge training is completed. Our training follows a facilitative model.
FSCM's training complies with the Massachusetts Confidentiality Statute MGL Chapter 233 sec. 23C and the MA Supreme Judicial Court's Uniform Rules on Dispute Resolution Rule 8(c)(i) which together define and outline the expectations and requirements necessary to become a Mediator in the Commonwealth.
Who Should Attend Basic Mediation Training?
People, from all walks of life, seek mediation training for a variety of personal or professional reasons:
Students – considering mediation as a career
Mental Health Professionals – looking to broaden their skills
Lawyers – seeking to add services to their practice and/or make a career shift
Retired Individuals – looking for a way to give back to their community
Some are interested in Mediation Training simply to add mediation skills to their toolbox and figure out how they might want to apply them down the road. Whatever the reason, all are welcome here!
Upcoming Mediation Training - Contact Us
After You Complete Basic Mediation Training
We offer a practicum for those who wish to pursue mediation here at FSCM. The practicum begins with observing Small Claims cases. New Mediators then move on to Co-mediating with this assistance of a Court Coordinator until such time as the Coordinator feels pairing with other Volunteer Mediators is appropriate. We require a minimum one year, once a month commitment for all new Volunteers who elect to pursue the practicum.
Continuing Education
FSCM provides monthly 2-hour trainings the last Wednesday of every month to assist Mediators in obtaining the requisite 6-hour minimum Continuing Education credits.
Additional advanced trainings are available to Mediators who have completed Basic Mediation Training.
How We Are Different
We welcome you to come be a part of the magic happening in Worcester.
We have expanded the Basic Mediation Training curriculum to truly dissect each part and help students get a better grasp of mediation skills from the beginning. We are going to make you work and practice and work some more. We have made sure to inject some fun to keep it engaging!
Comments from Our Basic Mediation Training Class
—"I thought both Sabrina and Kathleen are very knowledgeable, have tons of experience, were super clear and helpful. They overall were fantastic trainers & I am lucky enough to have learned from them."

—"All of the training exercises were helpful. I especially liked how they all built up to the end where we all got to practice a mediation from beginning to end, instead of just starting out with one."

—"The training manual along with the sequence of lectures and role play was very valuable. All the tools of self-examination and self-learning (Gregorc & Myers Briggs) etc. – very enhancing."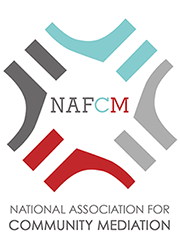 Proud Members of the National Association for Community Mediation. Working in cooperation with the Office of the Attorney General, the Massachusetts Office of Public Collaboration, and the Massachusetts Trial Court.
nafcm.org