Thinking about College? Seven Hills Can Help You Get There.
Educational Opportunity Center
The Seven Hills Educational Opportunity Center (EOC) in New Bedford, MA, helps people begin or continue their post-secondary education. Since 1974, the EOC has provided educational access services to income-eligible adults who are usually first-generation college students. The EOC services include academic, career and financial aid advising at eight service centers across the Commonwealth of Massachusetts. All college advising services are free, and our staff is multilingual. EOC advisors provide professional assistance tailored to each individual's needs and circumstances. The Seven Hills Educational Opportunity Center serves over 1000 people in the New Bedford area annually.
Gaining Early Awareness and Readiness for Undergraduate Programs (GEAR UP) – New Bedford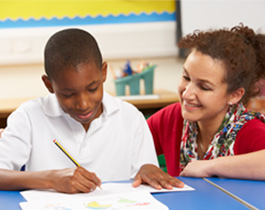 The GEAR UP program is designed to increase the number of low-income students who are prepared to enter and succeed in post-secondary education. GEAR UP provides services at economically disadvantaged middle and high schools. GEAR UP grantees serve a cohort of students beginning no later than seventh grade and follow the cohort through high school. GEAR UP operates in the Normandin Middle School and New Bedford High School.
Talent Search
Talent Search provides students at Keith Junior High and New Bedford High School with academic advising and assistance with the college application process, and workshops for parents. Seven Hills also provides two Educational Enhancement Centers located in the New Bedford Community that offer after-school academic support for elementary and middle school students at no charge.
MassEdCo is the sponsoring partner of the Seven Hills Educational Opportunity Center Program, the Seven Hills GEAR UP Program, and Talent Search.