Attachment-Oriented, Trauma-Informed and Developmentally Sensitive Treatment
Stetson School is a nationally accredited, fully licensed, Chapter 766-approved Residential and Education Treatment Program for male youth and young adults, ages 9-22, with sexually problematic behaviors, complex developmental difficulties, chronic mental illness, and autism spectrum disorders, who have suffered from severe trauma. Recognized as a national leader in the treatment of sexually troubled behavior, Stetson School offers a continuum of supports and services to the high-risk population with a family-focused, individualized "culture of recovery."
At Stetson School, our highly-qualified staff of educators and clinicians provide supports that speak to an individual's entire mental health and developmental needs. Our goal is to provide tools that can be used throughout a lifetime. Stetson School fosters empathy and a strong alliance between our treatment team and educators, the child and the family to ensure success. Our focus centers on strength-based and culturally sensitive services with the goal of supporting family stability, successful reunification and permanency. Our flexible program options specialize in safety through quality assessment and individualized treatment plans, which work toward a safe return to the community.
Our beautiful country setting provides a therapeutic, safe and secure placement for young men which promotes accountability and healing. At Stetson School, we believe that every child deserves the opportunity to become a confident, capable adult, and a productive member of the community.
Stetson School is SEVIS-approved and accepts international youth.
---
Community Giving Fund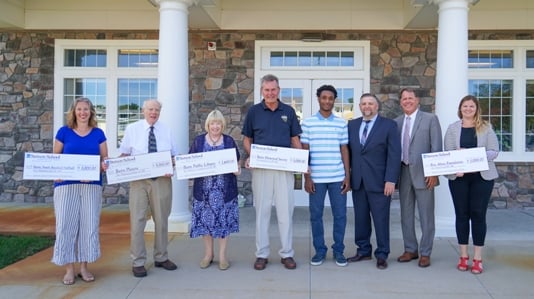 Stetson School Community Giving Fund of $10k annually will be given in up to $1,000 grants to nonprofit organizations, municipalities, or other community initiatives within the Town of Barre and/or other towns located in The Quabbin Regional School District that support community social good. Individuals or families are not eligible to apply.
Download Community Giving Fund Guidelines and Application Form.
---
Stetson School (Stetson) does not discriminate on the basis of race, color, national origin, disability, sex, or age in treatment or employment at Stetson, admission or access to Stetson, or any other aspect of the educational programs and activities that Stetson operates. Stetson is required by Title VI of the Civil Rights Act of 1964 (Title VI), Section 504 of the Rehabilitation Act of 1973 (Section 504), Title IX of the Education Amendments of 1972 (Title IX), the Age Discrimination Act of 1975 (Age Act), and their respective implementing regulations at 34 C.F.R. Parts 100, 104, 106 and 110, not to discriminate in such a manner. Inquiries concerning the application of each of the aforementioned statutes and their implementing regulations to Stetson may be referred to the U.S. Department of Education, Office for Civil Rights, at (617) 289-0111 or 5 Post Office Square, 8th Floor, Boston, MA 02109-3921, or the Stetson School Affiliate Vice President Joseph Allred at (978) 355-4541 or 455 South Street, P.O. Box 309, Barre, MA 01005.