Providing Time Apart for Families, and New Opportunities for Individuals with Disabilities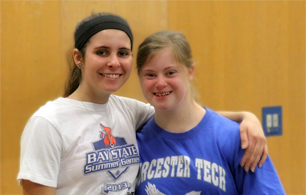 Respite care through Seven Hills in Massachusetts and Rhode Island provides short-term care for adults and children with disabilities and provides opportunities for their families or primary caregivers to have time away. Respite can be hourly or include overnight either in the home of the individual or outside the home through a wide array of services.
Seven Hills professional respite staff provide individualized supports and spend time away from home in "Respite Inns" or residences that allow guests with disabilities to develop self-determination skills and new connections in the community.
Respite services are available:
As outlined in an person's Individual Service Plan (ISP)
Through private pay arrangement
Seven Hills currently manages Respite Inns in Fitchburg, Southbridge and Worcester. Each Respite Inn can accommodate four to five guests per night. Residential Respite Inns offer inviting and tastefully appointed accommodations, and provide 24-hour care. Guests typically stay a few days, and services are available for emergency or planned care.
Families or caregivers can coordinate respite care in Massachusetts through one of Seven Hills' three Family Support Centers located in Worcester, Fitchburg, and Sturbridge; and in Rhode Island for children only through the Respite Services program.