IMPORTANT BINGO NOTICE:
July 26, 2021
Plans are currently being formulated for the reopening of bingo. Please check back for further information as it becomes available.
---
For over 30 years, Seven Hills Foundation has been operating very successful bingo games that are open to the community.
Games are run three nights per week: Monday, Thursday and Saturday evenings. The Monday and Thursday Bingo Games begin at 6:25 p.m. The Saturday Bingo Game begins a little earlier at 6:15 p.m. Our doors open at 4:30 p.m. and game papers are for sale starting at 5:00 p.m. Although it may differ slightly per night, most games end by 10:00 p.m. Plenty of seats are available.
Each night, there are two Progressive Games with the potential to win $1,199 and $3,000 for those Coveralls. In addition, there are two Winner Take All games that have a $500 Coverall prize (depending on total sales). The first game played every night is a Casino 50/50.
The minimal admission fee is $3.00. There is also the option to purchase game papers for additional Special Games played during the night. Most game prizes are $100 or more.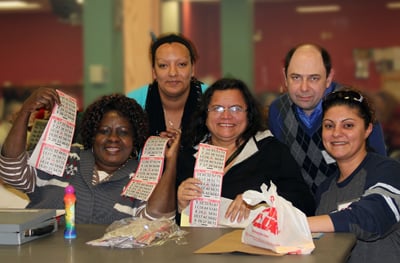 There is a full snack bar providing a complete dinner special each night, as well as many favorites such as salads, sandwiches, nachos, pastries, pies, popcorn and more. We also offer free refills on coffee. Daubers and Scotch Tape are also for sale for those who need these playing supplies.
During the evening, there are two short breaks and an intermission. During the intermission $200 in Door Prizes are awarded for those in attendance with a valid Admission Card. At intermission, there is also a raffle drawn for those who purchased a raffle ticket to win $5 Lottery Scratch tickets.
Seven Hills Bingo Games are held at 81 Hope Avenue in Worcester, Massachusetts.
This site is located off Exit #10 "Hope Ave" on I-290 West.
If you would like more information, please contact the Bingo Office at 508.983.2988.
We would love to have you join us at one of our next Bingo Games!