RSVP's Senior Fraud HelpLine
The Senior Fraud Prevention Initiative helps seniors recognize, resist and report fraud.
When calling the HelpLine, you will find a peer who may have had a similar experience to yours. You will speak with a person trained and knowledgeable about what to do next; a confidante who cares about your fears. 800.297.9760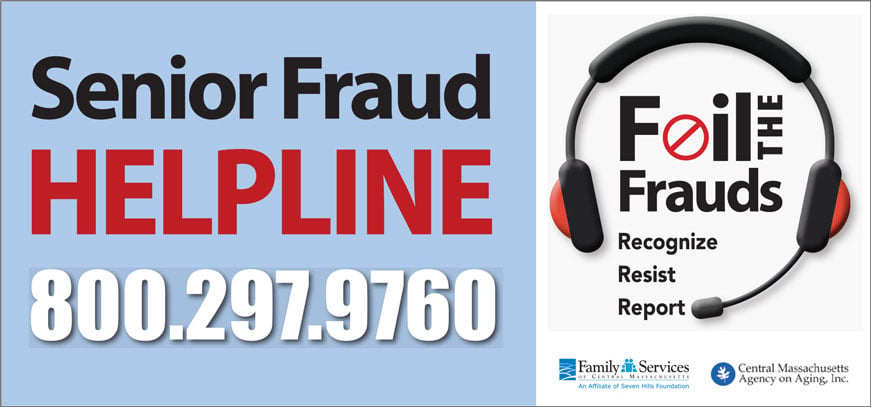 RSVP's Senior Fraud HelpLine receives calls from 9 A.M. to 4 P.M. Monday through Friday.
---
Ask us about joining the Fraud Brigade or becoming a Fraud Squad Player.
To receive more information about enrolling in RSVP Volunteer Program please contact us: Phone: 508.425.9187, Email: jrehfeld@fscm.org
---
The Fraud Squad Players
The Fraud Squad Players are a group of volunteer actors who are members of the AmeriCorps Seniors' RSVP. They travel to different senior centers and senior living facilities in the Worcester County area and educate their peers on the warning signs and manipulative ways scams and frauds present themselves. From Impostor Scams to Financial Exploitation, the Fraud Squad Players bring an engaging twist to educating the community on how to avoid getting scammed. Through educating, viewers are able to recognize scams quicker, resist the urge to fall victim to these scams and report scams to the proper agencies. The Fraud Squad Players want the community to know that they are not alone in the fight against scams and the RSVP Senior Fraud Helpline (1-800-297-9760) is always here to assist with any questions or concerns you might have. Together, we will protect our seniors' hard earned money and their quality of life.
New Schedule and Locations Coming Soon