Volunteers Welcome!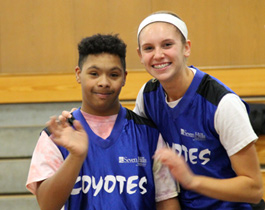 Volunteering is an important way you can make a difference at Seven Hills. Sharing your talents and enthusiasm will make a dramatic, positive impact on the people we support. Volunteering and sharing your time improves quality of life for everyone, including you! Your unique perspective on life will enrich the lives of others who are looking to connect with friends in the community. Volunteering promotes social change, and breaks down the barriers of disability, poverty, or other life circumstances. Connecting with others in need builds understanding and acceptance.
Some examples of available volunteer opportunities working with children and adults with disabilities:
Arts & Crafts
Horticulture
Digital Photography
Teen Peer Mentors
Musicians
Technology Tutors
Fix It!! Help repair adaptive equipment
Woodworking – Help design and run a new center in Worcester
Special Olympic coaches and unified partners
Dance – teach a dance class
Out & About! – join participants during outings in the community
Fitness – workout companions needed
Seven Hills is a richer organization because of our volunteers. We invite you to explore volunteering opportunities throughout our organization. Help us define dignity in the lives of people at Seven Hills.
Contact:
Susan Fallon
508.983.2937 or sfallon@sevenhills.org