Support for People with Autism Spectrum Disorder to Live and Thrive in the Community
Seven Hills is committed to helping individuals with Autism Spectrum Disorder (ASD) and their families pursue a better quality of life through specialized residential options.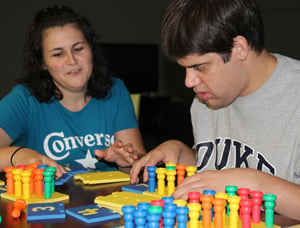 Seven Hills has built a reputation for providing dignified, highly specialized care through a well-coordinated network of behavioral supports; well-trained and supervised staff; and the expertise to improve the quality of life for people with autism spectrum disorders (ASD) and co-occurring disorders. Seven Hills staff are well-trained and licensed behavioral health care professionals who work as an integrated team to provide exceptional care. Each home that supports individuals on the spectrum is supervised by the Director of Clinical Services, who is a licensed psychologist and doctoral-level BCBA. At Seven Hills, our clinical service delivery adheres to best practices in the field and a three-pronged approach that includes professional judgment, quality science, and adhering to the values and preferences of families and individuals with ASD. Our staff receives competency-based instruction in Applied Behavioral Analysis (ABA), Positive Behavior Supports (PBS), Behavioral Observation and Measurement techniques, specific intervention procedures, and an overview of ethics and professional conduct.
Using person-centered principles, staff at Seven Hills works to:
Encourage community membership through personal interests and beliefs
Develop comprehensive positive behavior support plans
Coordinates an integrated team approach with families
Develop continued social, communication and self-management skills
The Seven Hills professional team is passionate about addressing the individual nature of every person with ASD whom it supports. We foster independence and socialization to the level of comfort of each individual, and family members who are involved in their loved one's treatment. You can be assured that the success of our outcomes is based on individual assessment and a plan that considers all aspects of the person's diagnosis, daily routine and environment.