The True Meaning of Family
The Stokes are a close-knit family, and an example of how sports can bring people together - even siblings with varied interests and abilities. The family has been involved with Seven Hills sports offerings for more than ten years, with Kyle taking part of various teams.
Parents, Dick and Lisa, are at every game and have been committed supporters of the Seven Hills sports programs. The common denominator for the Stokes clan has been working together on the basketball court as members of the Seven Hills Panthers, a Unified Special Olympic Basketball team.
Kyle is currently a senior at Worcester Technical High School, exceling in carpentry. Despite having a disability, he has pursued and met success academically, athletically and socially, through his constant positive attitude. As a freshman, Kyle played football at the High School, but continued as a member of the Seven Hills Spartans Unified Flag Football team, playing alongside his sister Molly, 15, who is another Stokes family athlete. "For Kyle, he just loves sports, loves to play, but high school sports for him was out of reach. The teams at Seven Hills allow him to train and compete, which is a big boost for his confidence." said Dick Stokes, Kyle's father. "His coaches, all volunteers, have been so incredibly supportive and have helped grow a social network around Kyle with the other players."
Dick and Lisa credit former coach Steve Geary, and coaches Dale Elliot and Steve Janulewicz who have taken Kyle's competitive drive and helped him channel that into positive energy that ignites his teammates. "It's good for these athletes to be in this competitive environment. Special Olympics Unified teams are set up to facilitate competition and success for the athletes. Kyle brings such joy, such a positive dynamic to all our athletes." said Coach Elliot
The family involvement with Seven Hills started when Kyle was 8 years old when he joined Unified Basketball with his older sister, Courtney, now 22. Courtney, now ready to graduate from St. Anselm's College, was a former basketball star at St. Peter-Marian High School who through her love of fitness, got Kyle into shape through Cross Fit training. "When Courtney started as a Panther, the other two younger siblings really wanted to play, but they were too young." said Dick. Fast forward to 2018 and the Panthers boast 4 Stokes players, Kyle, Courtney, along with Molly and Mitchel, 15 year old twins.
"It's great to play with my family. It's comfortable playing with people you love." said Kyle. "Playing for the Seven Hills' teams is like playing with extended family for me which is important. The competition makes my mind stronger and me more capable." said Kyle. "Basketball is my favorite and I am definitely going to keep playing!"
---
No Stopping Caroline from Dancing, Cooking, or Healthy Living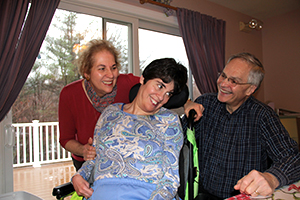 Caroline has cerebral palsy, but there's no stopping this active, upbeat woman. "I feel really good with my life," she said. "Seven Hills is so good to me in so many ways!" For the past 14 years, Caroline has taken advantage of nearly every offering of the Seven Hills recreation program.
You'll find her attending the annual dinner dance at Holy Cross College, creating remarkable works of art, decorating yummy cupcakes, adding the beauty of plantings to her home, and learning healthy lifestyle and nutrition though our Healthy Hills program, with funding from the Reliant Medical Group Foundation, and lots more.
"It's hard to keep up with her many diverse interests," said Marjorie Cohen, Caroline's mom, during a recent visit with her daughter at Caroline's Seven Hills home in Leicester, MA. Dad Dave Cohen added, "Caroline loves her staff and housemates, and the variety and quality of community connections Seven Hills offers her are just outstanding!"
---
An Inspired Outlet for Nick's Impressive Energy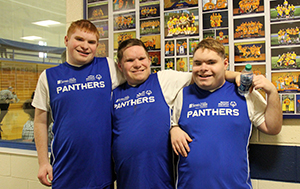 Another season, another sport, for a Seven Hills athlete and social participant. For Nick, the love of being active has found a home through the many activities offered through the Community Connections programs at Seven Hills. Nick participates along with his cousins Kyle and Kullen and keeps spreading his joy of being active!
Nick seems to be constantly in motion, his mother Teri said. In addition to his current swim classes, he participates in many other Seven Hills' activities, including flag football, basketball, baseball, woodworking, and cooking.
Nick's Seven Hills activities provide long-lasting benefits for both him and his mom. "He's a vigorous and social kid by nature, so getting involved in activities he loves are a great outlet for all this energy. And we parents have become almost like family."
---
Working Wonders for Tristan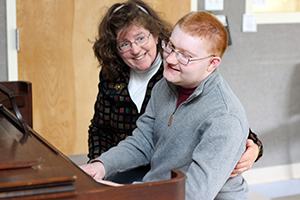 "This program is a Godsend!" said Bronwyn Teixeira of her son Tristan's participation in the Seven Hills recreation program. Tristan was born with a rare brain disorder, limiting his speech and ability to process information. "His enthusiasm for activities at Seven Hills has done wonders for him in many areas," Bronwyn added. He enjoys painting, cooking, gardening, woodworking, and especially music – therapeutic activities designed to address his strengths and challenges.
Bronwyn notices that listening to music and trying his hand at the piano helps Tristan process information more readily, and she sees improvements in his speech. And many of the activities he enjoys on-site at Seven Hills have found their way into his home life. "Ultimately, the real value of his time at Seven Hills," she said, "rests in the practical and social skills he's learning, abilities that help him feel more self-assured and independent."
---
Jay Is a Sportsman for All Seasons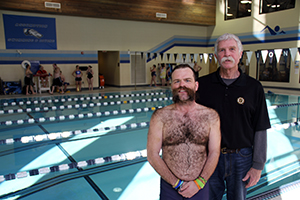 Jay is the "ultimate sportsman," said his dad Ken Carlo, as he watched his son warm up at a recent swim practice at Assumption College in Worcester, stroking smoothly lap after lap. A long-time participant in the Seven Hills aquatics program, Jay is training for both regular swim meets and for his ultimate goal: qualifying for Special Olympics.
Jay doesn't let his developmental disability sideline him for one minute. Besides swim team, he plays catcher in the Seven Hills softball program, under the tutelage of Ken, the team's coach. In all, Jay has participated at Seven Hills making Community Connections for 12 years.
"I enjoy it all so much," Jay said after climbing onto the pool deck, a bit winded but exhilarated as always. Ken said Jay's participation helps keep him motivated and serves as a means for greater social interaction. "At the end of the day," said Ken, "he's more self-confident, which is the biggest plus."
---