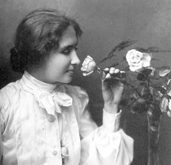 "The only thing worse than being blind is having sight but no vision." Helen Keller
I wonder what Helen Keller might have thought about the myriad of AT available today to assist with blindness or other vision issues? As a visionary herself, I'd like to think that she could have easily imagined an entire industry devoted to the issues she knew only too well. There are lots of categories (as usual!) in the world of AT regarding vision aides. From OCR, (optical character recognition) to magnifiers to audio described DVD's, there is a lot to review. Let's see if I can break it down to some general areas to think about in terms of AT.
Screen Readers, Voice Output, Audio Captioning
Optical character recognition (OCR) technology offers blind and visually impaired persons the capacity to scan printed text and then speak it back in synthetic speech or save it to a computer. (Learn more at The American Foundation for the Blind)
This type of technology allows text from websites, menus in the operating systems or from other programs to be deciphered and spoken aloud by the computer. Tablets and cell phones use system settings like "Voiceover" and "Speak Selection" to read menus, tell you about your appointments and more.
We are probably most familiar with captioning, the printed or spoken text providing additional or interpretive information to our favorite television or movie experience.
Magnification and Projectors
More toward the low-tech end of the spectrum, these simple mechanisms can provide perfect support for the right task such as reading the phone number on the back of your credit card (really, could they be ANY smaller?) or projecting what the teacher is writing on the board directly to your laptop.
Braille and Braille Displays
Braille is a system of raised dots that allows a person to access information. Once only available in paper form, today's Refreshable Braille Displays are providing direct access to information without sound.
Resources
I have posted some vision resources for you on our AT Resources page but I wanted to mention just one here: iCanConnect, the National Deaf-Blind Equipment Distribution Program (NDBEDP). This program provides free access to distance communication technologies to people with significant combined hearing and vision loss who meet federal income guidelines. It's definitely worth a look.
We've just scratched the surface here today, but let's not forget the simple things we can do to improve our vision, like lighting! While writing this I have my magnification in MS-Word set to 140%, which I find comfortable. (Younger eyes might find this a bit much, but it suits me just fine!) However, I also have my OttLite, full spectrum lighting, on my desk reducing glare and eyestrain. A must at home when I find time to knit as well!

What about you? Is lighting something you have considered when thinking about vision and eyestrain? Are you using VoiceOver, Zoom or Larger Text on your iPad or iPhone? Do you have a resource you would like to see added to our resource list? Drop us a note!
Warmest Regards,
Jean