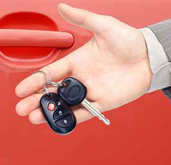 I know I put them on the kitchen table; I did, so if they are not there, someone must have moved them. I know I put them there, right there, on the kitchen table. I don't have to tell you I was shocked when I eventually found them in a pocket, in my purse. But, I KNEW I had left them on the table! Hadn't I? How did that happen?
It is at times like these we all start to fear that the everyday memory issues we all have might really be the early stages of Alzheimer's disease. My grandmother had been diagnosed late in life with the disease. She was often in her own world, not recognizing her children or grandchildren, but often telling us "what nice people" we were! So it certainly isn't a far stretch for me to wonder if misplacing my keys is a first sign that it could happen to me as well.
It seems like, at least for now, I shouldn't stress about occasionally misplacing the keys, as I do not exhibit the symptoms of the disease. This is not only fortunate for me, but my family as well. It is well known that this disease can be devastating for the caregiver. Websites like www.volunteersignup.org are helpful in coordinating caregivers' schedules.
Assistive technology does have a definite place in supporting individuals with Alzheimer's, as well as other types of dementia. The Alzheimer's Society PDF on AT Devices for Everyday Living is a great place to start. It outlines and explains the many categories of assistance such as memory aids, location devices, telecare, bed occupancy and devices that help with activities of daily living.
When you have narrowed down the types of items that look right for you or someone you know, the Alzheimer's Store is another great resource. They sell devices of every sort from picture phones to pill dispensers. www.carezone.com is a helpful medication minder website as well. As with any technology, take time to learn all of the features available in each item. Ensure all caregivers know how the devices work and make sure everyone is on the same page.
I hope that this post can be a good starting point for you, should you ever need this type of AT resource. Do you have any firsthand experience with any of these sites or devices? There are so many resources out there, is there a favorite one that you would be willing to share?
"Alzheimer's caregivers are heroes". - Leeza Gibbons
Warmest Regards,
Jean