Reposeful – Stormless – Tranquil - Serene
Ah, blissful, peaceful words. I feel less stressed just jotting down these words, such calm. I actually do look for opportunities during a busy day to try and reset my priorities or just give my mind a chance to process the day and, dare I say it, rest a moment. Listening to a favorite song or perhaps catching a few minutes of one of my favorite Podcasts usually works for me – StarTalk with Neil DeGrasse Tyson, The Moth, The Infinite Monkey Cage…so many, don't get me started! Often this is just the little break I need to reset and face the remaining challenges of the day.
Recently, a co-worker asked me if I knew of any apps that might help someone center themselves, maybe even try some bio-feedback. Needless to say, I am not a therapist, nor do I play one on TV. However, I love a challenge and thought this was a great opportunity to learn just a little on how an app might help us in this pursuit of peace.
The Assistive Technology for Cognition handbook for clinicians, by Brian O'Neill and Alex Gillespie states "Technologies that aim to increase awareness of heart rate variability....have led to some evidence of effectiveness in aiding emotional regulation."
So, that is to say, it may help so it's worth a try!
I went ahead and did a general search and came up with just a few apps for us to look at today. I don't want to see this blog turn into a "go check this app" list. Although I haven't tried these apps myself as yet, this is such a 'hot topic' I thought you might want to check them out.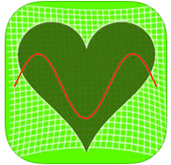 iBioFeedback

"This app can be used with or without a heart rate measurement sensor. If you do not have a sensor, you are still able to record your heart rate by tapping the app screen. The app will tabulate and record all of your measurements." – iTunes Store. $1.99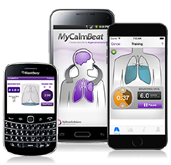 My Calm Beat

"MyCalmBeat is a Brain Exercise by MyBrainSolutions.com that helps improve your ability to manage stress through slow breathing. Slow breathing allows you to increase the variability of your heart rate to decrease stress, improve focus and build resilience." – iTunes (available on other platforms). Free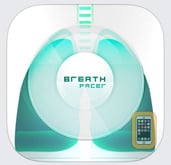 Breath Pacer

"Research has shown that practicing therapeutic breathing creates profound mental and physiological changes in the body. Breathpacer is especially useful for those people who want to master the breathing techniques used in various forms of Yoga, Meditation, Qigong and other practices." – iTunes (available on other platforms). $2.99
What mechanisms do you use to calm and center yourself during stressful situations? Are you interested in hearing more about this type of app? Remember: "The only Zen you find on the tops of mountains is the Zen you bring up there." - Robert M. Pirsig
Warmest Regards,
Jean