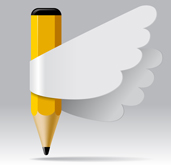 "A #2 pencil and a dream can take you anywhere." - Joyce Meyer
Are you a struggling artist? Do you ponder the merits of various types of pencils while endlessly wandering the isles in the funky art store in your city or town? No? Then perhaps you are like me and the thought of drawing anything more complicated than a stick figure is distressing!
Whether or not artistic talents are running through your veins like for my daughter and sister, and well, millions of others, pencils and pens are so ubiquitous most of us don't think about them. That is, until you need one and they have all disappeared from the face of the planet, right?
I was looking around on Indiegogo the other night just to see if there were any interesting pre-market gadgets in the making that might be helpful in the world of AT. (Yes, this is what aging geeks do when they are too tired to knit and Neil DeGrasse Tyson is not on TV ….just saying.)
Of all the things I found, what I was most surprised to see is that people are still reworking the stylus. The stylus of course is the instrument used to interact with your phones and tablets, in lieu of using your finger. You see your finger has replaced some of the need to find a pen or pencil to jot down your next appointment. Just use your finger to tap, write, swipe or scroll your way into capturing your information on your phone or tablet!
As assistive technology, using a stylus can help with accuracy. It is pretty low-tech AT, but useful none the less. A thicker weighted stylus can be useful if you have a tremor or other physical issue that inhibits your accuracy with hitting small targets. Children often do much better with this type of stylus as well.
Even low-tech AT comes in a variety of endless choices. "Different styluses are a better fit for different tasks and not all of them are actually pen-like. Some are designed for children and help them draw, others are made specifically for smaller devices, some are not made to look like pens at all and some combine several functions and act like laser pointers, pens and styluses all in one." - China Electronics Gadgets News
Some Suggestions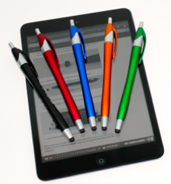 The Klick Stylus Slim Pen offers a "seamless" transition from ballpoint pen to stylus starting at $2, while the StylusUS Slider has a unique design plus it attaches to the device so that it is always at the ready (3-Pack $9.95).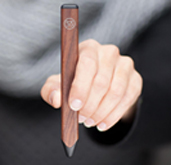 The Pencil stylus by FiftyThree is a beautiful companion to accompany their gorgeous Paper app for notes and sketches. Shaped like a carpenter's pencil (think easy to hold) it is priced at between $49.95 - $59.95 but has a magnetic strap, extra tips and connects via Bluetooth to Paper, Procreate, Sketchbook Mobile, Noteshelf, and other apps. This is much more high-tech than the others.
No matter which you choose I doubt your artistic abilities will improve, but hopefully, you will see improved accuracy and ease of access when interfacing with your technology. Please tell us the name of your favorite stylus of the moment!
Warmest Regards,
Jean