Improving the Life-Changing Effects of Injuries to the Brain
Seven Hills NeuroCare is a regional leader in community-based supports for people with acquired brain injury. Seven Hills NeuroCare provides post-acute brain injury rehabilitation to survivors and to people with neuro-developmental disorders through a continuum of services tailored to their needs. We are driven by clinical best practices and guided by a comprehensive team of medical and allied health professionals to help people set and achieve goals. We encourage active participation in the home, community, work, and relationships to build independence and help people reclaim their lives.
Our philosophy includes Person-Centered planning and Positive Behavior Supports and our mission includes helping survivors identify and achieve personally meaningful life goals, maintain and develop important relationships, and be actively engaged in their communities.
Participation is Rehabilitation! Universal goals for the people we support:
Independence. The person performs important home, employment, and community skills more and more "on their own."
Autonomy. The person lives, volunteers, or works with less supervision.
Inclusion. The person is part of the world of activity and relationships outside of the home and in the community as often as possible.
Ownership. The person works on goals that are personally meaningful.
Seven Hills' integrated team of professionals has a reputation for clinical excellence, including cognitive rehabilitation, rehabilitation counseling, speech language therapy, behavior analysis, psychology, nursing, assistive technology, and coaching/support with daily living skills.
---
Community Connections for People with Brain Injury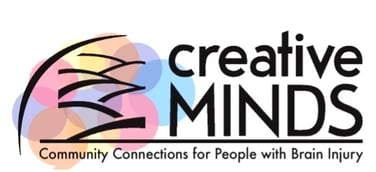 The Seven Hills Creative Minds Program provides monthly virtual arts-based workshops, music-based "jam" sessions as well as other community-based activities for people with acquired brain injury to create, make friendships, and to learn about other supports and services that might be available to them in the community.
This program is funded by the Massachusetts Rehabilitation Commission's Statewide Head Injury Program (SHIP) Program.

Learn more at Meetup.com >