Improving the Life-Changing Effects of Injuries to the Brain
In 2014, Seven Hills launched Seven Hills NeuroCare, Inc. to provide a significant focus on supporting individuals with brain injuries in Massachusetts and Rhode Island.
Seven Hills has supported the complex needs of individuals with brain injury for decades, with a full continuum of care. With the Hutchinson v. Patrick class-action lawsuit (2008, 2013) in Massachusetts, over 1,400 individuals with brain injuries are eligible to receive support services in community-integrated settings. Many of these individuals are transitioning from long-term-care facilities, chronic-care facilities, or rehabilitation hospitals and Seven Hills is there to support their journey.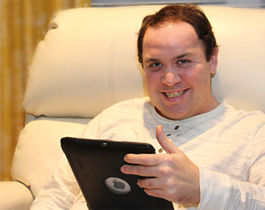 Seven Hills has contracted with UMass Memorial Medical Group to consult on the clinical supports required by persons participating in Seven Hills NeuroCare Services, adding significant clinical expertise to our array of medical and program supports.
Through the experience of Seven Hills NeuroCare clinicians and professional staff, many of our existing areas of service are now supporting individuals with either Acquired or Traumatic Brain Injuries (ABI/TBI), maximizing their independence and recovery in the community.
Seven Hills' integrated team includes Certified Brain Injury Specialists (CBIS), behaviorists, medical doctors, neuropsychologists, neurologists, and a comprehensive team of allied health professionals.
Creative Minds - Community Connections for People with Brain Injury
Join us for a monthly casual social art experience for adults with Acquired Brain Injury (ABI). Engage with the world of art by creating art through studio experiences led by knowledgeable art instructors. Other social community events will also take place throughout the year.
Learn more at Meetup.com >
"Our relationship with the Neuropsychology department of UMass Memorial Medical Group will add significant clinical expertise to our array of medical, rehabilitative, and other critical supports at Seven Hills NeuroCare, to provide the latest best practices in care for people with brain injury." - Dr. Kathleen Jordan, Executive Vice President and Chief Executive Officer of Seven Hills Foundation