About MCCN
Seven Hills Family Services is one of nine Long Term Services and Supports (LTSS) community partners that make up Massachusetts Care Coordination Network (MCCN). This partnership of highly qualified health and human service agencies provides integrated comprehensive care coordination to people who are enrolled in MassHealth that have complex lifelong needs. By coordinating care, MCCN takes the best resources available and matches supports to each person's needs. MCCN provides the tools that help people build self-directed, fulfilling lives.
MCCN Care Coordinators are knowledgeable about people with complex lifelong needs, resourceful, respectful, and available at flexible hours of the day that meet your needs, as well as the needs of your patients or clients.
MCCN Care Coordinators operate in Northern, Central, and Southern Massachusetts and contract with most Accountable Care Organizations (ACO) and Managed Care Organizations (MCO).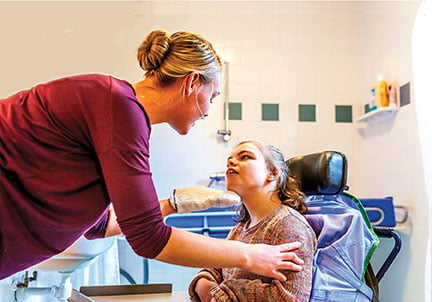 MCCN is the largest long term services and supports (LTSS) Community Partnership covering a broad geographic area in the Northern, Central and Southern areas of Massachusetts. MCCN brings a wealth of experience and a commitment to helping people better manage their health and well-being and improve their quality of life.
Who is Eligible
If you are a MassHealth member in an ACO/MCO health plan you may be eligible for MCCN services. Please contact your health plan administrator.
If you are interested in Care Coordination with Massachusetts Care Coordination Network (MCCN) please contact us and we will help you through the process. Visit Massccn.org for more information.