Connecting with communities through internet radio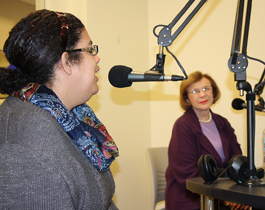 Self-expression, creativity, and the desire to be heard are what drives ASPiRE! Internet Radio at Seven Hills. Inside our state-of-the-art recording studio, people have the professional tools needed to record, edit, and broadcast around the world. From news, sports and special interest talk shows to community guest interviews—like Senator Harriette Chandler (photo left)—and the latest Top40 music hits, ASPiRE! Internet Radio is built around sharing that for which you are passionate!
At ASPiRE! Internet Radio, learning opportunities abound, as individuals receive guided, hands-on experience with the latest in recording and broadcast technologies. The self-confidence and pride gained from broadcasting something created truly inspires everyone involved. Whether it be through a specially curated music playlist, or a discussion about one's personal interests, ASPiRE! Internet Radio provides new communication possibilities.
Click Below to Listen Live
Listen Live!
---
ASPiRE! Radio Schedule
Contact Us
Joe Realbuto
Phone: 508.983.1503
Email: jrealbuto@sevenhills.org