Welcome to the BRACE Online Learning Community!
Whether you are a teacher, school administrator, social worker, law enforcement officer, or any individual working to end bullying, we're proud to work alongside you.

The Bullying Remediation and Court Education (BRACE) project was envisioned and organized by Judge Carol Erskine, Chief Justice of the Worcester Juvenile Court. In addition to the Court and Juvenile Probation Department, the partnership included YOU, Inc., an Affiliate of the Seven Hills Foundation, the Worcester District Attorney's Office, the Worcester Public Schools, and the Worcester Police Department.


Over eight years, the BRACE partners have developed an innovative bullying prevention program, including classroom-based interventions, referrals for additional services and supports, summer camps and retreats, peer leadership activities, and an annual conference.

While the COVID-19 pandemic has prevented us from offering a live conference in the last two years, our work has continued. We're pleased to share the array of bullying prevention education and tools on this page – including encouragement for your work on these issues from officials at each partner agency, self-paced training, and printed resources.

We encourage you to explore these materials and the innovative strategies that may help your school system or organization to address bullying and more importantly, prevent it.
BRACE Conference Video Introductions: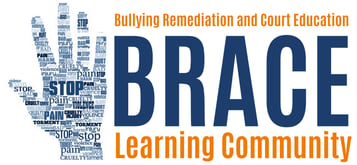 BRACE Program
For more information about the BRACE program including location and contact information, please contact us at 508.849.5600
Module 1: Bailey Huston, Coordinator PACER's National Bullying Prevention Center PACER Sessions 1-4
Monika L. Potter, LMHC, Senior Director of Educational Services, YOU, Inc.
Dynamy Stepping Stone Project: