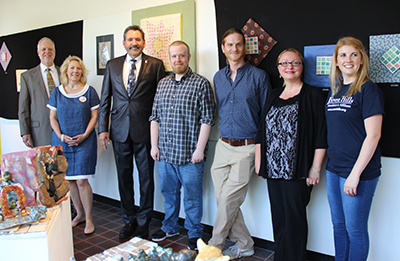 When you are showing the joint effort of over 100 artists and they come together to celebrate, seeing their work on display in a first class art museum, you create the kind of life affirming energy that's hard to ignore. Such was the case as people streamed into the Worcester Art Museum for Free Fun Friday on June 23rd. Literally hundreds of museum goers found their way to a new installation: Visions of Avalon: A Community in Dialogue with the Medieval Collection, showing in the Open Door Gallery @ WAM through Tuesday, August 15.
Youngsters spilled out of their shield-making workshop to pose for photos with the cardboard Knight from ASPiRE! in Devens. Adults had their breath taken away as they encountered the stained glass totem backlit by the light streaming in from the Stoddard Courtyard. Swords and shields, mosaics and a ceramic village under siege complete with dragons from ASPiRE! in Worcester, sparked animated conversations. The charming medieval village, made of plant materials by the horticultural program at ASPiRE! in Worcester was truly enchanting.
According to Joe Realbuto, VP of Seven Hills ASPiRE!, the program's Expressive Arts Staff has been working with faculty and docents at the museum and the ASPiRE! artists to interpret the museum's extensive medieval collection for several months. Another installation by these talented artists is planned for the fall.
Treat yourself to a tour of the new museum installation and this contemporary exhibit inspired by medieval times. The Open Door Gallery @ WAM is free and passes for the other museum galleries are available at: wam@vsamass.org
Visions of Avalon: A Community in Dialogue with the Medieval Collection
Open Door Gallery @ Worcester Art Museum
55 Salisbury Street, Worcester
June 23 to August 15
Charles J. Washburn, VP/COO, VSA Massachusetts
508-868-1267
cjwashburn@vsamass.org