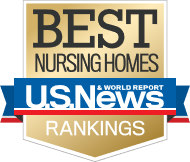 I have the honor of working with a dedicated and caring staff of health care professionals at Seven Hills Pediatric Center (SHPC) and this month once again, their demonstrated excellence has been nationally recognized. SHPC completed our annual Department of Public Health/Centers for Medicare & Medicaid Services survey and had no deficiencies. SHPC continues to hold a "Five Star" rating, being on the top 1% of nursing homes throughout the country. We will also be honored in U.S. News and World Report as one of the top nursing homes in the country based on our compassionate care for children and young adults who are medically fragile.
Additionally, our Annual Active Treatment Survey from the Centers for Medicare & Medicaid Services was completed, again with no issues. Hats off to our teams, including Adult Services, Nursing, Medicine, Therapy, and DDS, that helped accomplish our goals.
On behalf of all our children, young adults, and families we thank you!
Holly
Dr. Holly Jarek DSc VP/NHA
Seven Hills Pediatric Center