Thank you for sponsoring the 34th Annual New Beginnings Charity Golf Tournament!
Your generosity helps provide the major funding for Seven Hills' Community Connections program.
You will be contacted closer to the event to provide your golfer information.
If you have any questions, please contact Jen Bergstrom at (508) 983-2935 or jbergstrom@sevenhills.org.
Your support helps
More than 1,800 individuals and families access our Community Connections programs at Seven Hills Family Services. Children and adults with disabilities enjoy a variety of sports, arts, culinary, technology, and social opportunities that build essential skills - and most importantly - valued friendships. These connections are critical on their journey to BeWell.

The demand for classes and events is growing, and we need your support! Most of these programs are offered at no cost to our participants, and Seven Hills relies on the generosity of our New Beginnings supporters to keep this program alive and well.
"Tracy truly enjoys golf with her patient and upbeat Unified Partner, Penny, who always makes her smile! She loves the opportunities through Community Connections." - Maureen, parent (photo right)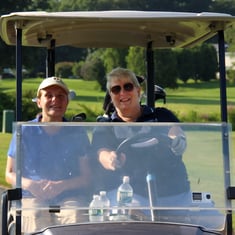 Volunteers are a major part of the success of the Community Connections program and there is always a need for coaches, unified partners, teachers, and more. We are grateful for the volunteers who spend the day on the course making our Tournament such a wonderful day. Please think about becoming a volunteer and join the fun.

Your financial support is critical to continue to fund these life-changing opportunities to build friendships and connections while pursuing dreams!

Every gift keeps the fun alive and well for the children and adults we have the privilege to support! Thank you!
---
Meet Tyrone Hicks, the Coach of the Seven Hills Shamrocks Football Team
Community Connections Spotlight

One of the Seven Hills Special Olympic teams, the Shamrocks flag football unified team, took the gold medal in their division at the state games hosted by Gillette Stadium in November. Coach Tyrone Hicks is now preparing the team for their competition at the USA Games in Orlando, Florida in June.


Learn more about the Seven Hills Shamrocks and Coach Hicks here: Telegram article link>