Resource Guide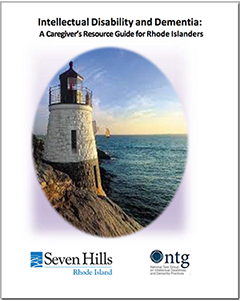 If you are a caregiver or family member of an individual with an intellectual/developmental disability (IDD) and Alzheimer's Disease and related dementia (ADRD), please download this informational resource.
This Rhode Island specific resource guide was created to improve understanding of dementia and potentially lead to earlier identification and acquisition of timely supportive services.
Seven Hills Rhode Island and its project partners would like to express appreciation to the Administration for Community Living (ACL) and ACL Project Officers/Consultants Erin Long and Sari Shuman for the funding opportunity to create a more dementia capable system of care for individuals with intellectual and developmental disabilities and dementia. We would also like to express our appreciation to them for their support and encouragement in making available this newly published document, Intellectual Disability and Dementia: A Caregiver's Resource Guide for Rhode Islanders.
Seven Hills also extends sincere thanks to the following collaborative individuals and partners who contributed to the development and final draft of the resource guide. It is our hope that this tool will become an invaluable resource for paid and unpaid caregivers throughout the state.
SHRI: Christine Gadbois, Catherine Taylor, Kim Genereux, Jackie Morgan and Elizabeth Vittum

The National Task Group on Intellectual Disabilities and Dementia Practices (NTG): Matt Janicki, Kathy Service, Mary Hogan, Nicole Cadovius and Kathleen Bishop

The Alzheimer's Association of Rhode Island (AARI): Inglish Gardner and Donna McGowan
Rhode Island Lieutenant Governor's Office: Lt. Governor Dan McKee, Anthony Silva and Craig Dwyer

The Rhode Island Geriatric Education Center (RIGEC) at the University of Rhode Island: Faith Helm and Catherine Taylor

The many families and agency personnel who served as focus group members and who provided their comments prior to the Resource Guide's publication.

Without the help of each of these individuals and groups, this guide, and its dissemination, would not have been possible.